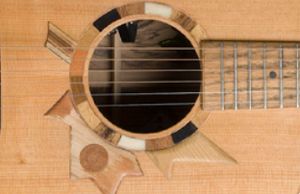 THIS STORYING GUITAR - LIVE  &  ONLINE SHOW
"Voyageur" is a one-of-a-kind guitar made of 64 pieces of Canadian history and culture with a story to tell that is as unique and wide as the country for which it stands.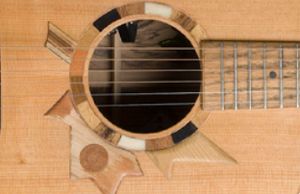 "Having presented Jowi and David, I can vouch for the quality and professionalism of the performance...It was a true slice of Canadians reflecting on being Canadian and will fit many different genres of performance and school curricula."   
Ronnie Brown, Marketing & Programming, Oakville Centre for the Performing Arts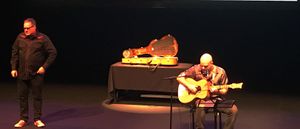 SHOW SYNOPSIS:
Voyageur, the guitar at the heart of the show, is unique in the world and offers audiences a way to explore the diversity of the Canadian story and their own personal and local relationships to that story; David's original songs inspired by Voyageur constitute a special relationship between musician and instrument. Between David's songs, Jowi's visual storytelling, the voice of Voyageur and the links audiences make to their own experience, the show is a conversation in a way that few other presentations can achieve. It is musically, visually and narratively rich and a way of connecting people to each other and to a broad and inclusive sense of the Canadian identity.  It is part musical concert, part TED Talk and part Canadian cultural immersion.
"VOYAGEUR IN SONG" ALBUM REVIEWS
"Possibly the most Canadian Album on Canada's most historic instrument."  Toronto Star
"Voyageur In Song is something truly special… the album is a unique and uplifting, almost spiritual listening experience...that rare thing, a genuinely inspiring album."  Rock 'N Reel Magazine
SIX STRING NATION REVIEWS
"Jowi Taylor has engineered a small miracle:  a guitar that's also a country that's also a journey that's also a story that's also the past that's also the future that's also the here and now." 
Bill Richardson, Writer & Broadcaster
"The unique guitar at the heart of this book is a layered reflection on Canadianness in material form, and the story of its creation and travels is nothing less than a testament of joy." 
Mark Kingwell, Writer & Professor