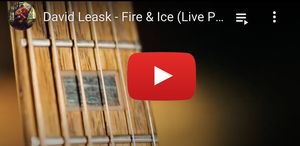 Here is the third in a series of live performance videos from my latest record Voyageur In Song.  It's a song inspired by the piece of the Labradorite used on the inlay of 3rd and 9th frets of the Six String Nation guitar.
The live performance of "Fire & Ice" was shot at Catherine North studios by the wonderful film makers at Big Red Oak and features me on vocals and acoustic guitar and Justin Abedin on electric guitar. There's a brief introduction with Jowi Taylor and I talking about the inspiring legends behind the song, the unusual time signature and how it's voiced from the point of view of the billion year old piece of rock.
A couple of strange synchronicities happened around "Fire & Ice". The first was when I was returning the Six String Nation guitar to Jowi Taylor after having written this song in a crazy 5/4 time signature.  Jowi told me about a poem he had commissioned by renowned poet Robert Dickson  about Voyageur called "Générations".  He proceeded to play it for me and to my amazement I heard Robert recite these words: "This playing is work this work is playing with time space laughter friendship all shared and shored up with crazy love from 5/4 time to immemorial." It was as if Voyageur had sent out a request for a song in 5/4 time and it had been delivered.  The second synchronicity happened after writing the song and learning that a piece of "Rocket Richard's" Stanley cup ring had been inlaid into one of the pieces of Labradorite in the guitar. "Fire & Ice" could have been just as good a title for a song about Canada's iconic hockey legend Maurice Richard!