Thanks to FATEA magazine's Marc Higgins for this wonderful review of "Voyageur In Song".  It's so gratifying to have someone experience your work deeply. Here are some highlights.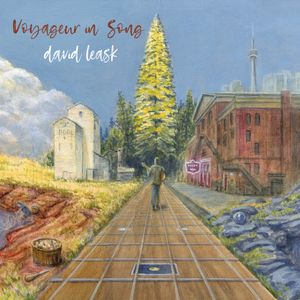 "This concept mini album, with its extensive notes to guide you and thoughtful cover art is a delight on so many levels."
"These are folk songs in the making, delivered with warmth and love on a truly folk instrument...a quirky and rich object that explores, entertains and enriches, deepening the concept of this unique guitar by using it as a vehicle to examine Canada."
"Les Chansons Du Voyageur" is possibly the strongest song and performance in the set. It opens with evocative almost shamanistic guitar tapping, every sound on this track, percussive or melodic, except for Davids voice comes from the guitar and its different voices. Kind of like a wood and wire Bobby McFerrin. Like an instrument that channels the different emotions of the musician, the song celebrates Canada's diverse, rich and sometimes turbulent history."
"Lyrically my favourite song is "Take A Seat", telling the story of a seat in the legendary Massey Hall in Toronto, famously the site of a 53 seminal bebop concert by Charlie Parker, Dizzy Gillespie, Bud Powell, Charlie Mingus and Max Roach and many many other events. Leask's word play is razor-sharp, he manages to smoothly string together a who's who of entertainers and make it flow."
Read the full review at FATEA here